HISTORY OF THE ARTISANAL COOPERATIVE CELLAR OF MONTPEYROUX
Half a century of history: One look to the past, the other to the future.
Founded in 1950 the Coopérative de Montpeyroux cellar is one of the last cellars to have been built in Languedoc (the great cooperative boom took place around 1910 in 1929).
1950
9 January 1950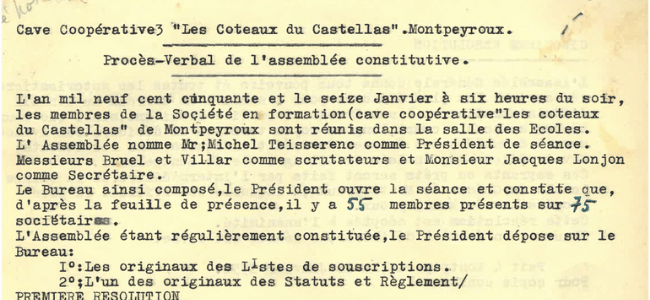 Late and carefully considered birth of the cellar Under the impetus of a few winegrowers who understood that the economic development of the vine was linked to the ability to bring together people and energies, in 1951 the first harvest was vinified. 75 members, most of whom were " modest " small owners, were part of the adventure at the time and 5500hl were vinified . 5 jobs were created and entrusted to people from the village. The cellar thus became the main employer in Montpeyroux.
Read more
1949 – Beautiful harvest, catalyst for transformation
1930 – The beginnings of creation
1955
9 April 1955

1st qualitative recognition of wines (Superior Quality Wine)